It's coming to the end of the year and that means switching off for a lot of people and relaxing, something we all are in need of.
This is the time to sit down reflect, review and re-evaluate our goals that we had set for 2021 and to plan what we want to achieve next year. There is no point getting to the 1st January 2022 and thinking "hmmmm what are my goals for this year ?" In order to be successful we need to be prepared and ready to hit the ground running.
"Failing To Prepare Is Preparing To Fail" — Benjamin Franklin
Get some comfy clothes on. Get a notebook, colouring pens or iPad whatever you want to take notes. Find yourself a space to sit down and shut off from the world, its time to get planning and goal setting !
I normally start by splitting my page into personal, professional and health sections as these are the key areas I want to make improvements in. Then I go through and make notes for each area of what I would like to achieve. Some areas will have more goals than others but I try not to have more than a maximum of 3 per section. This may seem a lot but the majority of the time these all interlink with each other and once you review them the list reduces.
Once you have got your goals all set make sure you have them recorded and display them somewhere you can keep a track. I have got a training board from https://www.trainingboards.co.uk/shop these are more triathlon and run specific but are great for tracking your training goals. There are so many ways you can keep track, whether it be a whiteboard or notes on your phone, the key thing is it needs to be visual so you are reminded daily.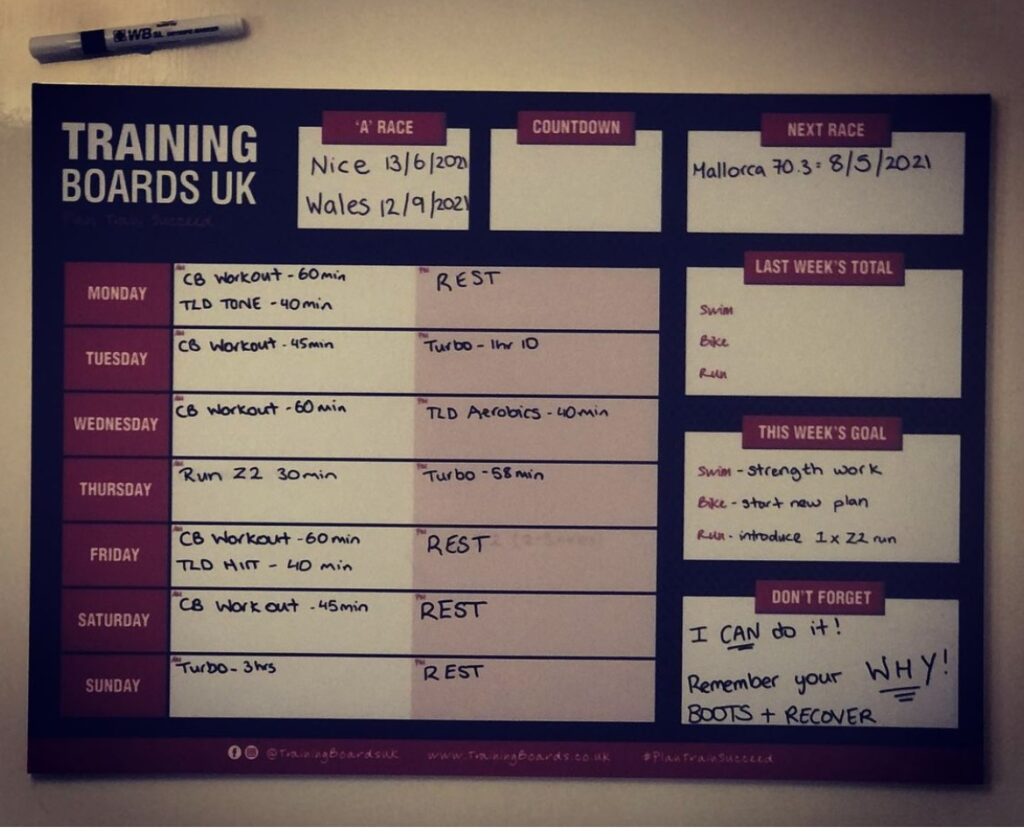 The next step which I enjoy is setting myself incentives for when I achieve these goals and mini goals along the way, that is what keeps you motivated ! Who can honestly say they don't enjoy being rewarded when they do something right. Be realistic though with your rewards and don't have a gold star kind of reward for a bronze level goal. My first half stone goal incentive was a gift voucher, there were no rewards along the way to get to that first goal. Once I hit that target it was that much more rewarding as I knew how hard I had worked to get their. I keep a list on my phone of what my targets are to remind me when I loose focus and need reminding.
Let me know how you have got on this last year with your personal goals and what you have planned for 2022.